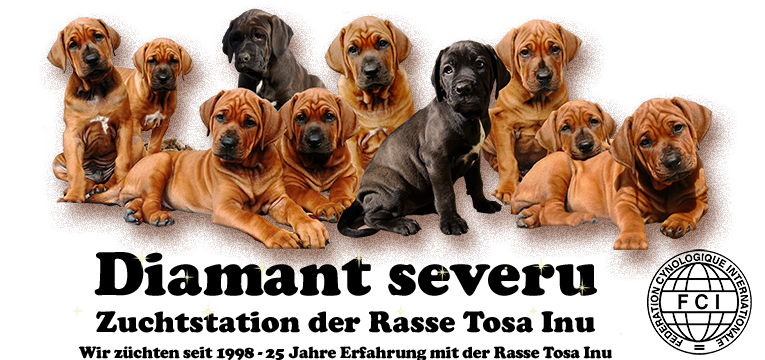 Hello,
We would like to introduce ourselves to you and tell you a little bit about our company – North Diamond (Diamant severu). We are an internationally protected kennel. We are among a class of professional kennels with a long standing tradition.

We have been in the practice of exclusively breeding Tosa Inu since 1998. In 1999, under the auspices of the FCI and CMKU (Czech-Moravian Union canine) we proudly became official members of the Kennel Club Moloss CZ.
Tosa Inu gained our interested not only by their rare, stunning appearance, but by their excellent character traits. We were the first in the Czech Republic to introduce this refreshing breed. We have welcomed Tosa Inu breeds not only from the direct surrounding areas of Europe but also from the USA, where we imported a few rare individuals with beautiful black and bridle coloring. We are the first kennel in a Central Europe to have introduced such rare breeds with unique coloring. Most are direct descendants of Japanese ancestors.

As a result, you can enjoy all the color varieties and shades of puppies coming from unrelated bloodlines with interesting exterior links. In the carful practice of breeding individuals, we adhere to the standards of FCI and ensure the highest quality of breeds.

Whether you are after a show champion or just a wonderful pet that comes from a line of successful and impressive ancestry, we can accommodate you. We will advise you, every step of the way, to ensure you are completely satisfied and comfortable.
Our puppies have been presented in exhibitions around the world and met with great reverence and success. Cynology is our love, hobby and passion since childhood. Each dog under our care is not only a friend, but a rightful member of our family and the residents.
Thank you for visiting our site and we wish you a lovely day. We look forward to answering any questions and concerns about this exciting decision in your life. We hope to see you soon. :)
                                                                                                Lenka Zindulkova
TOSA INU – PUPPIES, TOSA INU – WELPEN, TOSA – INU – ŠTĚŇATA
_